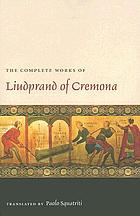 Liutprand de Crémone, 0920?-0972?
Liudprandus, évêque de Crémone
Liutprandus, Cremonensis, ca920-ca972
Liutprandus Cremonensis ca. 920-ca. 972
Liudprand, Bishop of Cremona, -approximately 972
Liutprandus Cremonensis 920-972
Liutprandus, vesc. di Cremona, c. 920-972
Liudprand Bishop of Cremona d. ca. 972
Liutprand, cremonský biskup, 920-972
Liutprand av Cremona, ca 920-ca 972
Luitprandus
Liutprando di Cremona (920?-972?).
Liutprand of Cremona
VIAF ID: 22933701 (Personal)
Permalink: http://viaf.org/viaf/22933701

Preferred Forms

4xx's: Alternate Name Forms

(207)
Works

Countries of Publication

(11)

Publication Statistics

Selected Publishers

(11)

About

Record Views

History of VIAF ID

:22933701 (54)