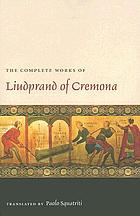 Liutprand de Crémone, 0920?-0972?
Liudprandus, évêque de Crémone
Liutprandus, Cremonensis, ca920-ca972
Liutprandus Cremonensis ca. 920-ca. 972
Liudprand, Bishop of Cremona, -approximately 972
Liutprandus Cremonensis 920-972
Liutprandus, vesc. di Cremona, c. 920-972
Liutprand, s. X.
Liudprand Bishop of Cremona d. ca. 972
Liutprand av Cremona, ca 920-ca 972
Liutprand, cremonský biskup, 920-972
Liutprando di Cremona (920?-972?).
Luitprandus
Liutprand of Cremona
VIAF ID: 22933701 (Personal)
Permalink: http://viaf.org/viaf/22933701

Preferred Forms

4xx's: Alternate Name Forms

(221)
Works
| Title | Sources |
| --- | --- |
| Ambassades à Byzance | |
| Antapodosis | |
| Antapodosis 4 | |
| Aus Liudprands Werken | |
| Bibliotheca hispana vetus sive, Hispani scriptores qui ab Octaviani Augusti aevo ad annum Christi M.D. floruerunt. | |
| Catholicisme ; Dictionnaire des auteurs grecs et latins | |
| Chronique | |
| The complete works of Liudprand of Cremona | |
| De Creta capta | |
| encyclopædia britannica | |
| Epitoma vitae Roberti regis | |
| Fontes ad Historiam Aevi Saxonici Illustrandam = Quellen zur Geschichte der saechsischen Kaiserzeit | |
| Gesandtschaft zu Kaiser Nikephoros Phokas | |
| gesta di Ottone I | |
| Histoire de l'Empire d'Occident, de la traduction de Monsieur Louis Cousin.... Tome II | |
| ˜Les œHistoires | |
| Historia Ottonis | |
| Homelia Paschalis | |
| Informe de la embajada a Constantinopla | |
| Italia e Oriente alle soglie dell'anno mille | |
| L'An mille | |
| Leonis diaconi Caloe͏̈nsis historiae Libri decem et Liber De velitatione bellica Nicephori Augusti | |
| Liber de rebus gestis Ottonis | |
| Liudprand von Cremona, c1981 (subj.) | |
| Liudprandi episcopi cremonensis opera | |
| Liutprandi,... Opera quae exstant. Chronicon et adversaria nunc primum in lucem exeunt P. Hieronymi de La Higuera,... Laurentii Ramirez de Prado,... notis illustrata. [Cum praefationibus Ludovici Tribaldi et Erycii Puteani.] | |
| Luitprandi Opera | |
| Luitprandi si Eutrandi e Subdiacono Toletano et Ticinensi Dia*. - | |
| Luitprandi sive Eutrandi... episcopi Cremonensis ... Chronicon ad Tractensundum .. episcopum, a multis hactenus desideratum, numquam editum. ex bibliotheca C. Thomae Tamaio de Vargas..., Philippi W. Magni Hispaniae regis historiographi,... : Accessere ejusdem historiographi regii notae et fragmenta Luitprando attributa | |
| Mission to Constantinople 968 A.D. / Liutprand of Cremona ; introd. by Lynn H. Nelson ; explanatory notes by Melanie Veenboer Shirk, 1972 | |
| Obras | |
| Oeuvres complètes | |
| Opera omnia | |
| Opera quae extant | |
| Opere | |
| Opusculum de vitis Romanorum Pontificum | |
| Relatio de legatione Constantinopolitana | |
| Relatio de Legatione Constantinopolitana | |
| relazione di un'ambasceria a Costantinopoli | |
| ♦ Rerum gestarum per Europam... Libri sex | |
| Res gestae per Europam ipsius praesertim temporibus. - | |
| Sammlung | |
| Tutte le opere di Liutprando da Cremona | |
| Witichindi Saxonis, Rerum ab Henrico et Ottone I impp. gestarum libri III, una cum aliis quibusdam raris... diversorum autorum historiis, ab anno... DCCC usque ad praesentem aetatem.... | |
| Works. | |

Countries of Publication

(11)

Publication Statistics

Selected Publishers

(12)

About

Record Views

History of VIAF ID

:22933701 (55)